Click Here to download our Main Menu for Brickhouse Burgers and Brew.
START
Beer Battered Cheese Curds …….. 8.75
Lightly battered and fried, served with
House-made Marinara
Brickhouse Onions …….. 8.50
Fried golden & served with a spicy remoulade
Bavarian Pretzel …….. 9.75
Pretzel sticks served with IPA mustard sauce
& warm cheese sauce
Bacon Wrapped Jalapeno Poppers …….. 9.50
Served with a Raspberry Chipotle sauce
Cave Man "Wings" …….. 10
Our twist on wings "Drummies" in our signature wing sauce: Chipotle BBQ, OMG, Garlic Parmesan, Thai Peanut & Jelly, Teriyaki, Buffalo
Flight of Bacon …….. 12
Five varieties of bacon, 10 pieces total. House-made bacon,
pork belly, pepper bacon, brown sugar candied bacon,
and apple wood smoked bacon.
Portuguese Spicy Calamari …….. 10.50
Calamari lightly breaded w/ Peri Peri Seasoning. Servied with a Peri Peri Crema
Chorizo Loaded Potato Skins …….. 10.50
Fried Potato Skins (6) loaded with Chorizo, bacon bits, cheddar cheese, sour cream and green onions
Loaded BBQ Pulled Pork Nachos …….. 11
House-made chips, queso cheese, Beer Cheese, BBQ pulled pork, shredded lettuce, Black bean corn salsa, sour cream and Jalapenos
Wild Mushroom Spinach and Artichoke Dip …….. 8.50
House-made wild mushroom spinach artichoke dip served with freshly made chips
Nashville Hot Chicken Sliders …….. 12
Two Nashville Hot breaded chicken sliders served on Hawaiian bread with lettuce, spicy pickles and mayo
SOUPS & SALADS
Three Cheese and Lager …….. 5.50
Gouda, cheddar, smoked swiss and house-made bacon
Brickhouse Chili* …….. 5.50
Spicy! Finished with onions, sour cream and cheddar cheese
Cheese-Z Chili …….. 5.50
An employee favorite… The perfect blend of our Chili and Three Cheese Soup topped with bacon and cheddar cheese
Handmade Soup of the Moment …….. 5.50
Soup of the day
House Salad …….. 7
Blended lettuce, Cucumbers, Tomatoes, Croutons, Red Onions, Cheese and Choice of Dressing – Add Chicken for 3
B.L.T Wedge Salad* …….. 8
Iceberg Wedges, Bleu Cheese Crumbles, Bacon Bits, Red Onions, and Tomatoes. Served with Bleu Cheese Dressing
Santa fe Salad …….. 8.75
Salad mix, avocado, black-bean corn salsa, tomato wedges and avocado poblano Ranch dressing – Add chicken for 3
Beet Butternut Squash Salad …….. 10
Mixed greens tossed with Quinoa, tomato, cucumber, red onions, avocado and a zesty red wine vinaigrette
The Classic* …….. 9.75
Two All Beef Patties served with your choice of Cheese, Lettuce, Tomato and Red Onion
Patty Melt …….. 11
Two all-beef patties served with cheddar, swiss, Jameson Bacon Jam, Secret Sauce and IPA carmalized onions
A Bit of Heat* …….. 11.50
Two All Beef Patties served with Caribbean Red Jack, Jalapeño Poppers, Sriracha Aioli and Lettuce
The BrickHouse* …….. 12.50
Two all-beef patties served with gouda, caramelized onions, steak sauce, lettuce and tomato
Bacon Cheese* …….. 11.50
Two all-beef patties served with gouda, cheddar, house-made bacon, lettuce and topped with chipotle mayo
Black + Bleu* …….. 12.50
Two blackened all-beef patties served with Bleu Cheese dressing, bacon, lettuce, sauteed mushrooms, caramelized onions and Bleu Cheese
Egg-celent* …….. 12.50
Two all-beef patties and a fried egg served with house-made bacon, sweet onion hash, cheddar, lettuce, sweet and spicy maple sauce
Impossible Vegan Burger …….. 13
One all Vegan (plant based) patty served on a Dairy Free Bun with lettuce, tomato and vegan spicy mayo

Widow Maker* …….. 11
Spicy! Two all-beef patties, Caribbean Red Jack, fresh sliced jalapeños and OMG sauce
Cali-Bian* …….. 11
Two all-beef patties, house-made bacon served with garlic-thyme aioli, jalapeño-avocado sauce, salted chips, lettuce and tomato
Elk El Jefe Burger …….. 14.50
Elk patty served with Caribbean Red Pepper Jack cheese, Avocado Poblano Ranch sauce, black bean corn salsa, jalapeño popper, lettuce and avocado
Southwest BBQ Pulled Pork* …….. 12.50
One patty and House-made BBQ pulled pork served with lettuce, black bean corn salsa, Cilantro Lime Crema and tri color tortilla chips
Blueberry Bison Burger* …….. 14.50
Bison patty served with house-made bacon, Arugula, Gouda Cheese and blueberry compote
The Mac-n-Cheezy …….. 11.50
One all-beef patty served with BBQ dipped house-made bacon, pan-fried cheddar Mac-n-Cheese topped with lettuce and tomato
B.Y.O.B
…….. 14.50
Build Your Own Burger! Choose one cheese and up to six ingredients
Cheese:
Cheddar, Provolone, Smoked Swiss, Caribbean Red Jack, Gouda, Cheese Curds, White Cheese Sauce, Goat Cheese, Blue Cheese, Jalapeño Poppers
Meats: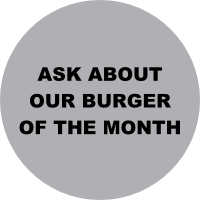 House-Made Bacon, Eggs, Pork Belly, Pepper Bacon, Brown Sugar Candied Bacon, Apple Wood Smoked Bacon, Jameson Bacon Jam
Garden:
Lettuce, Tomato, Onions, Mushrooms, Caramelized Onions, Avocado, Fried Crispy Onions, Arugula, Fresh Sliced Jalapeños, Salted Chips
Sauces:
A-1, Teriyaki, IPA Mustard, Chipotle BBQ, Marinara, Remoulade, Sriracha Aioli, Chipotle Mayo, Jalapeño-Avocado Sauce, OMG Sauce, Thai Peanut Sauce, Garlic-Thyme Aioli, Garlic Parmesan, Avocado Poblano Ranch
All burgers served with beer fries. Upgrade to a smaller version of one of our specialty shares for 2.25
for 1
Table
Four Cheese Mac-n-Cheese …….
4
7.50
Cheddar, Parmesan, Gouda and Smoked Swiss
Garlic Parm Fries ……………………..
3.25
6.50
Seasoned fries tossed in garlic butter, finished with parmesan cheese
White Truffle Fries …………………..
5
10
Seasoned fries tossed in truffle oil, finished with goat cheese and herbs
Brussel Sprout Stir-Fry …………….
4.50
8
Roasted brussel sprouts with a spicy onion mix finished with teriyaki sauce
Sweet Potato Tots ……………………
3.25
6.50
Seasonal Vegetables ………………..
3
5
as available
NOT-BURGERS
BLT …….. 9.25
House-made bacon, tomato, arugula and chipotle mayo
Chorizo Avocado Tostada …….. 10.50
Fried Corn Tortilla topped with Black Bean puree, Chorizo, Black Bean Corn Salsa, Cotija Cheese, Fresh Avocado, Sunny side up egg and Peri Peri Crema. Served with Fresh Made Tortilla chip and Southwest Creme
Mediterranean Pesto Chicken …….. 12
Chicken breast served on a Tomato Herb Focaccia bread. Topped with pesto mayo, roasted cherry tomatoes, marinated artichoke hearts, arugula and mozzarella cheese
Chipotle Fish or Pulled Pork Tacos …….. 2/8.50 or 3/10.50
Chipotle Marinated fish or Chipotle pulled pork served with shredded lettuce, Black Bean corn relish and southwest sauce. Side of Lemon

Classic Grilled Cheese …….. 5.75
Choice of three cheeses. Add tomatoes 50¢ and bacon 1.00
SWEETS
Fried Twix Sundae …….. 7
Fried Twix served with a chocolate-caramel-marshmallow pooled over a scoop of vanilla bean ice cream
Brown Butter Cake  …….. 7
Warm Brown Butter Cake topped with fire roasted apples, Vanilla Bean ice cream and Carmel Sauce
Classic Shakes & Malts …….. 5.50
Chocolate, Vanilla, Strawberry, Salted Caramel or Maple Bacon
WE PROUDLY SUPPORT OUR LOCAL VENDORS
OTTO'S MEATS, LAACKS CHEESE, QUAKER BAKERY,
AND ALL THE FRIENDLY BREWERS OUT THERE
*All buns can be substituted for a fresh baked gluten free bun
*In compliance with food code 3-603.11: Wisconsin Food and Safety Agencies, advise that
eating raw or undercooked meat, poultry, seafood or eggs poses a health risk to everyone
Printed menu prices in restaurant take precedence over any online pricing or offers.